WHO ARE WE?
WE ARE NOTRE DAMEANS from General Santos City -- a booming city that hugs the shoreline of Sarangani Bay. Named for its founder, our city is located in the Southernmost tip of Mindanao Island, Philippines. For a detailed history of GSC please see THE TUNA COUNTRY AT THE SOUTHERN EDGE OF MINDANAO: GENERAL SANTOS CITY 1939-2000". We sing the Irish Fight Song, we bleed gold and blue, and we know the words of the "Notre Dame Our Mother Hymn" by heart.

Our Mentors: An oral history in the words of our Brothers!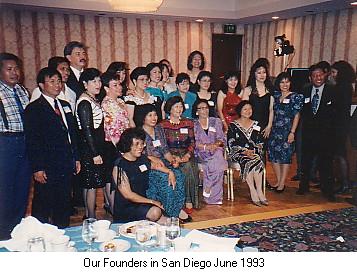 ALL ABOUT OUR ORGANIZATION:
Organized in 1993 at the first reunion in San Diego by 32 founding members. By-laws were drafted and passed (a copy is available upon request). A Membership fee of $20 a year is assessed. You can read a history of what we've accomplished and our current list of Officers.
WHO ARE OUR MEMBERS?
We call ourselves Notre Dameans--we wear the title with a great sense of pride wherever we go. The blood of our pioneering fathers whose sense of adventure and insatiable thirst for better opportunities compelled them to join Gen. Santos in 1939 continue to pulsate strongly within us. You will find a Notre Damean everywhere--Europe, the Middle East, Far East, Canada, Australia, and the United States.

The alumni association members are graduates of the three Notre Dame Schools in Gen. Santos City--university, high school, and elementary departments who now reside in the United States and Canada. Once every two years, on the last weekend of June, a national reunion is held. At each reunion, members vote for the venue of the following reunion.
Mr & Mrs William Enojado, Wilbert Calumpong, NDDB,
Mr & Mrs Nestor Diya, NDL Las Vegas 1995

Sr. Alice Condalor, OP (NDD) Sr. Estrella Vicente, OP
Sr. Lina Cloma, OP (NDD) Sr. Toting from Hawaii

Alice Aquino Trinidad (middle)
from Philippines with
schoolmates Dan Gabutina, Nena Guipo Adonay,
Ellie Rogan, Clot Gabutina Arzaga,
and Dorie Arradaza Dantoin.
Pista Sa San Francisco 1997

Chris and Leilanie Gammon,
Dulce and Mark Breithaupt
BalikGenSan sa New Jersey 1999

President (1999-2001)
Angel Boloico and his wife Vida


Corazon Martinez
Laughlin and family
Marriott, San Diego Reunion 1993

Zeny Kinjiyo Gili, Noli and Celia Esma,
Noh Dalid Conrad, Leilanie Zerrudo Gammon,
Fely Akol Pedrena, Roger Catapang, Cris Dinopol,
Fe Lautingco Urbano, Bernadette Buensuceso Graham
BalikGenSan sa New Jersey, 1999

Puring Soto Grimm and family
Marriott, San Diego Reunion 1993

Return to Home Page