---
Reunion 2013, General Santos City
"Balik Damean"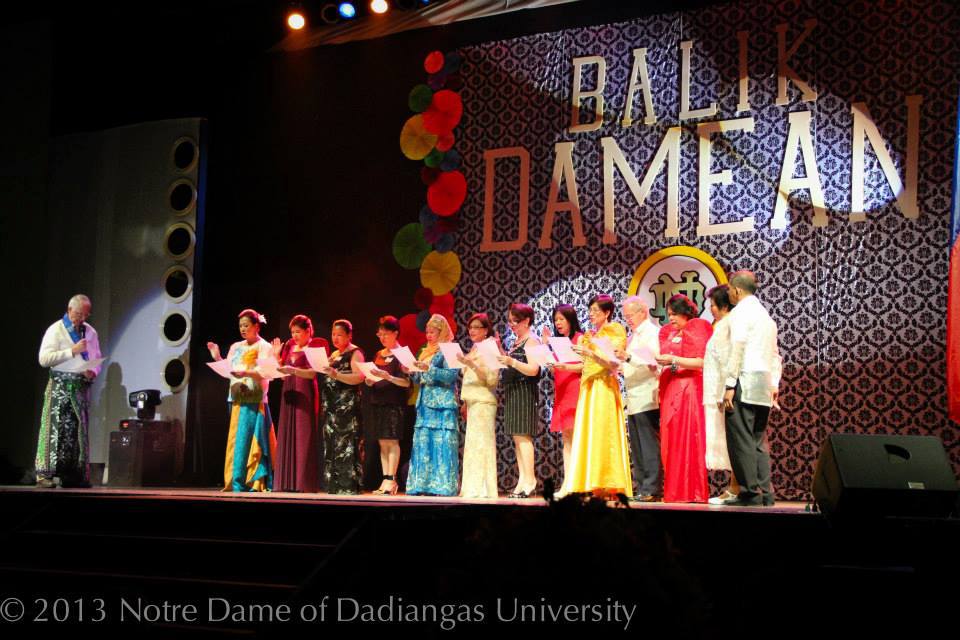 The Eleventh Grand Reunion
May 19-26, 2013
General Santos City, Philippines

Sons & Daughters of Matutum and Sarangani
May your dreams compare with the height and grandeur of Matutum
And
May your feelings match the serenity and depth of Sarangani.
Anastacio M. Hoyumpa, M.D., NDL 54
San Antonio, Texas

With those well-wishes from Dr. Hoyumpa, Notre Dameans from 13 countries, 17 states of
America and numerous provinces of the Philippines, arrived in their beloved hometown.
Matutum and Sarangani Bay welcomed them like long lost friends.
As it always did and as it always will.

The 11th Grand Reunion in Gen. Santos City, Philippines, without any doubt, measured up to its billing as being the "reunion of a lifetime!" No amount of words, or pictures, could adequately capture the joyful images of countless friends, classmates and schoolmates meeting for the first time in 20-30-40-50 years. The statistics paint an impressive testimony to the success of this week-long event.

• Grand Homecoming Parties at NDD University and ND-Siena College Campuses in one week
• 40+ Marists Brothers and Dominican Sisters in attendance
• 13 countries and 17 states of the US were represented
• 17 Members for Most Represented Family
• Collective 130 for 1st, 2nd, and 3rd for Most Represented Class
• 1100+ Attendees for the Gala Night
• 1000+ Attended opening and closing mass
• A Welcome Party attended by 600
• More than a mile long motorcade

One who was there can only offer snippets of Kodak moments.
One who wasn't can only imagine.
All we hope can enjoy the gallery of photos.
And join in the fun at San Antonio 2015.
Click on the links below to see pictures. Don't miss the other links below from prior reunions!
| | | | |
| --- | --- | --- | --- |
| Arrival | Trips | Gala | Picnic |
Officers for 2013-2015:
President.....Leilanie Zerrudo Gammon
VP.............Elena Tingzon Gonzalez
Sec............Emilia Abrajano Crisologo
Treasurer.........Wilhelmina Ferrariz
Auditor.......Noh Dalid Conrad

Board of Advisors:
Helen Biadoma
Zenaida Kinjyo Alejo
Ma Luisa Palacios Chan
Malut Diaz Corlett
Ida Combatir Estrada
Fred Gray
Geronimo Hingco
Josefina Ferrariz Tizon

Council of Past Presidents:
Art Henares, NDL64, NDDC, President 1993-1995
Prima Guipo Hower, NDL67, NDDC71, President 1995-1997
Rayland Rogan, NDL64, President 1997-1999
Angel Boloico, NDL67, NDDC, President 1999-2001
Sol Santos Cuenco, NDL74, President 2001-2003
Henry Rogan, President 2003-2005
Minda Hingco Zamzam, NDL66, President 2005-2007
Magno "Ding" Mateo, NDD Elem., President 2007-2009
Jess Mendoza, NDD HS '64, President 2009-2011
Nena Guipo Adonay, President 2011-2013
---

Back

Return to Home Page